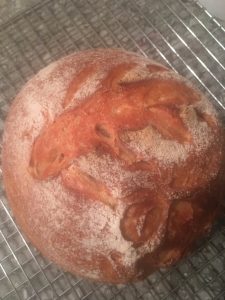 This is my sourdough bread. Hopefully, it's does what all good food porn is supposed to do – grab your attention and get you connected. But this is here for a bigger reason and a more important story.
I was passing through the Union Square Farmers Market today and stopped by the Greenmarket regional grain project.
And this little baby caught my eye – Estonian Heritage Wheat! Yes! My cousin's Pille's sourdough rye flashed through my eyes.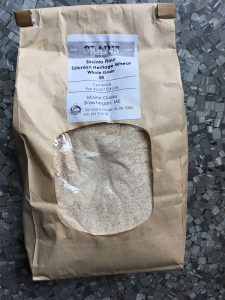 Honestly, they had me at Estonian.
These farmers are saving heritage grains by transferring seeds to regions where the varieties can thrive in the current environment. The farmers' markets in New York are asking the bakers in their markets to use those grains in their baked goods. They will be increasing the percentage of the grain used from 15% to 25% shortly.
So in one shot, we get:
Amazing food
Saving heritage food (i.e. real food)
Helping the planet cope with climate change
Supporting the essential work of sustainable farming
Giving me an excuse to connect with my cousin
Making me feel good about what I buy, what I eat, and justifies my baking hobby
I couldn't come up with a better way to connect mission-driven organizations to each other and to the people who support them. This is the perfect example of how narrative can drive cultural change.
This is the power of story. We've been telling them around the campfire over dinner since fire was invented. It's the only way humans really can grasp another's experience.
Want something to change? What story do you want to tell? How can you tell it visually to grab the eye and the heart?
And if you are just plain hungry, go pick up a muffin at your market. You'll be making a difference while treating yourself.
SaveSave
SaveSave
SaveSave
SaveSave
SaveSave
SaveSave
SaveSave
SaveSave
SaveSave
SaveSave
SaveSave
SaveSave
SaveSave
SaveSave
SaveSave